Kites On Ice, Madison, WI
Miniature Kite Art Gallery
---
The entrance to the World of Miniature Kites in the Monona Terrace Convention Center main hall.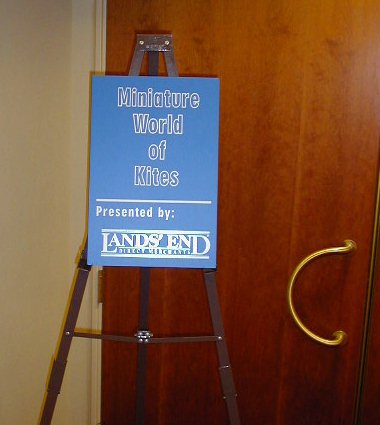 The room was crowded with visitors on February 4-5. We estimate that more than 4000 visitors attended the gallery!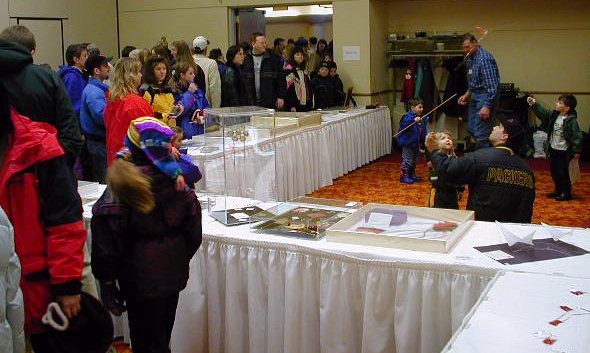 Kites were submitted by Charmayne Umbowers, The Drachen Foundation, Paul Berard, Owen Grossman, Yves Laforest, Richard and Marti Dermer, Charlie Sotich, Paul Fieber, Alan Sparling, Ton and Maria Vinken, Janene Evard, Richard Page, Glenn Davison (gallery Curator), Nancy Lockwood, Marc Rickets. Below you see a neon Wolf Genki kite and a Rokkaku.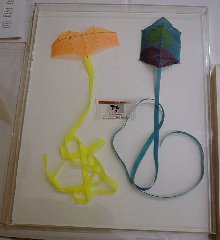 Two beautiful kites by Janene Evard with a 4" wingspan.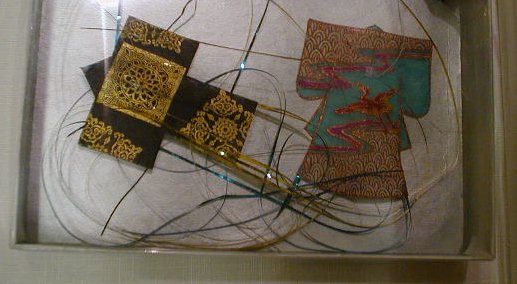 A beautiful example that belongs to Charmayne, made by Teruo Suga of Tokyo, Japan.
Three Valentines Day kites by Glenn Davison of Massachusetts.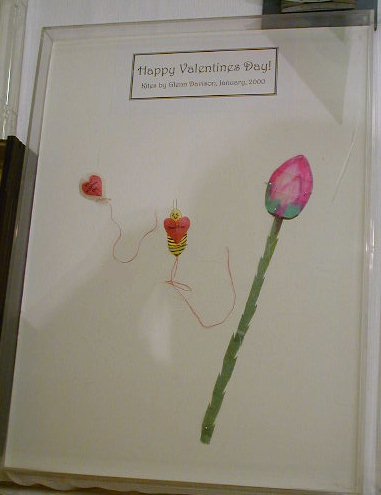 Workshops were presented by Charlie Sotich and Ton Vinken of Holland. Below is a photo of some of the work by Ton. Notice the bat, ghost, cody, tetra, and the kite made from a leaf.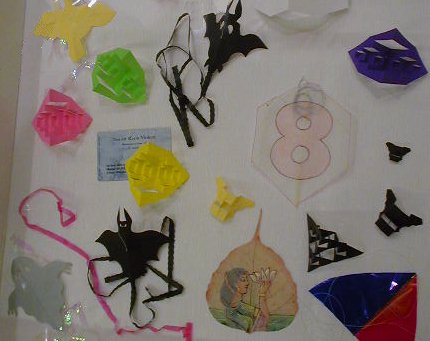 Miniature dragon kite with each cell only 2 1/2 inches wide.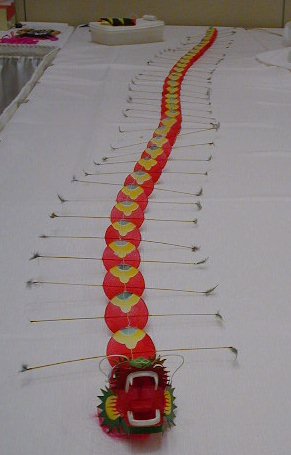 Why fly on ice when you can fly on an orange rug? Notice the tiny kite she's flying.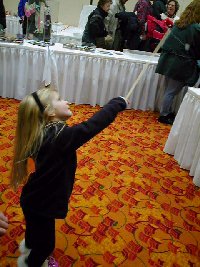 This is only a taste of what was shown. There were 5 flying machines that use electric motors to fly the kite on a long, thin boom, a flying arena, and we estimate that 500 miniature kites were on display.
---
Home | Galleries | Kits | Materials | Plans | Contest | Links