Miniature Kite Postal Contest
---
Winner Announced!
Congratulations to Donna Houchins for her winning entry in the first Miniature Kite Postal Contest! Donna mailed in her entry of a 1 1/2" square kite called "Pegasus Rising" made with tissue paper and framed with horse hair. It's a great flier and has sharp graphics.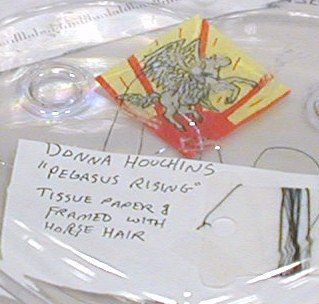 Award and trophy in miniature: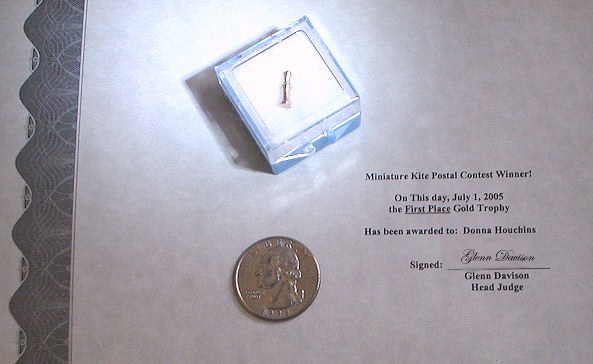 ---
Rules for the first Miniature Kite Postal Contest
This contest was entered by placing a small kite in an envelope and attaching a stamp. Easy! Each entry must be ready to fly and must survive the shipping through regular mail. See the detailed rules below... and Happy Flying!
Kites
Kites must fit in a standard #9 envelope. That's the long envelope measuring 9 inches by 3 7/8 inches.
Postage should be one 37cent stamp within the USA (or equivalent postage from outside the USA.)
Kites must survive the mail handling so balsa and bamboo are risky.
A self-addressed, stamped envelope should be enclosed so that the entry may be returned to the artist after the contest.
Kites must be built by the person submitting the entry.
Kites should arrive complete and ready to fly without any additional assembly or modifications.
Each person may submit one kite.
Judging information
Judging will be based on beauty, originality, and flight.
The decision of the judges will be final.
Judges are not allowed to submit an entry.
Mailing information
Send your entry to: Miniature Kite Contest, PO Box 461, Chelmsford, MA 01824
Deadline for postmark is April 30, 2005. Note: Contest is over.
Be sure to include your name and the name of the kite.
Winners
Winners will be announced by May 31, 2005
Winners will receive miniature metal trophies and names and photos of the winning kites will be posted on http://miniatures.kitingusa.com/
---
Home | Galleries | Kits | Materials | Plans | Contest | Links