Wildwood, NJ
Miniature Kite Art Gallery
---
The photo below shows an overview of the display of miniature

kites during the annual Wildwood International Kite Festival.

This gallery was on display from May 27-29, 2000 in the

Wildwood Convention Center in Wildwood, NJ.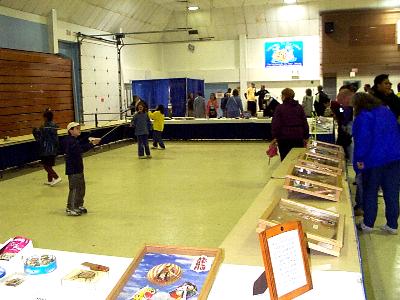 There were eight "flying machines" forming a Kinetic Kite Art Gallery.

The machines flew the kites continuously during each day of the show.

This is the largest collection of kite flying machines. The kites flew at

different heights and some of the circles they described overlapped

each other!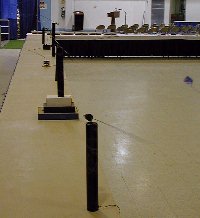 Below you see a closer view of one of the "flying machines."

They use electric motors to fly the kite on a long, thin boom.

Notice the single-cell box kite at the top-center of the photo.

This one was very popular because it flew slowly and steadily.

Kite and flying machine were built by Glenn Davison.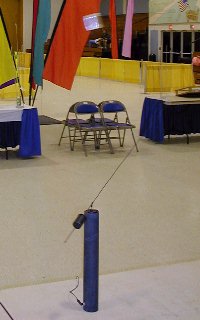 Tables were filled with miniature kites. Below I see a butterfly,

a #8 Rokkaku and a ghost paper cutout kite by Ton Vinken,

a bird by Charlie Sotich, a Rokkaku by Yoshizumi-san,

blackbirds by Glenn Davison, and at the top of the photo,

a train of shiny mylar kites by Paul Berard.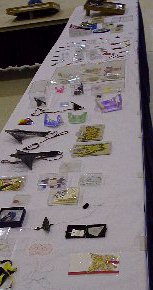 Lillienthal's glider by Harm van Veen of the Netherlands.

Notice the curved bamboo and the seated figure.

This won an honorable mention in the contest.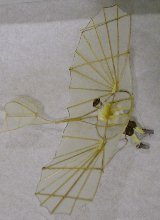 This "Guardian Angel" kite by Joanne Weber of the USA

also won an honorable mention.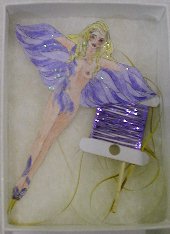 Miniature kites by Stephen P. Millner of PA, USA.

Stephen ran a workshop to teach others how to build

these beautiful Edo kites. Glenn Davison and Paul

Berard also ran miniature kite workshops.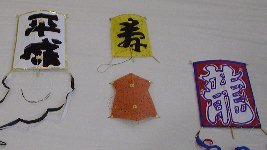 A very colorful miniature kite from the collection of Margo Brown.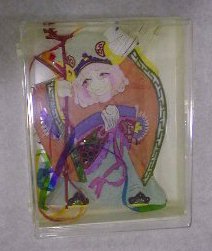 This Home Depot kite by Glenn Davison flies as a

fighter kite with a 4.5" wingspan. The kite is not

much larger than this photo.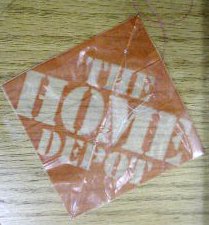 This is only a taste of what was shown. There was a

flying arena for spectators to try a selected set of kites,

and we estimate that 250 miniature kites were on

display. The "Great Miniature Kite Contest" was held

and the contestants and the winners were displayed in

the Gallery.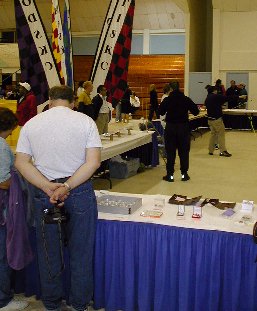 Thanks to Douglas Davenport, Elizabeth Snodgrass,

Meg Albers, SJKF, Margo Brown, Paul Berard,

Richard Dermer, Andy Galinas and Team Valley Girlz

for their assistance.
---
Home | Galleries | Kits | Materials | Plans | Contest | Links